Greetings, Bead Lovers!
It's showtime again! I'll be at Bargetto Winery's Art in the Cellars event this weekend in Soquel, December 6 & 7 with loose beads (a first at this show), CD copies of my Big Fancy Bead Tutorial, and some exciting new work featuring metal and glass. If you're anywhere near the San Francisco Bay Area, it's definitely worth the drive to check out this festive show.

This year I'll have a DIY Bead Bar where you can select your very own glass bead, a cord or chain, and I'll make it into a custom pendant for you while you visit all the other fabulous artists at the show. The show goes from 11am - 5pm both days, and I'll be there with bells on, and some tasty treats.


Here's some sneak peaks at my latest work.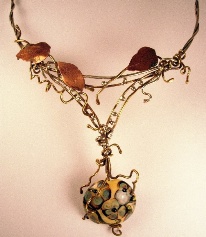 I'll be showing this piece by my metalsmith friend Cyndie Smith at Bargetto this weekend. It showcases Cyndie's fluid mixed metal work, and features one of my lampwork focal beads. She does some amazing organic pieces and I'm a proud owner of two of them.

I'm honored that she has chosen to use my beads in so many of her creations, and excited about the collaborations we're going to do in the future. For starters, we're working on an over the top piece for a competition next year. Stay tuned for more on this in late January.
My new Travelers' series of bracelets and earrings, in green. Until it was canceled, I was totally hooked on FX's "The Riches" (with Eddie Izzard and Minnie Driver). These earrings remind me of something that Dahlia would wear - feminine, sexy, a little quirky, and rich with visual interest.

Abundant with sterling chain, Bali beads, Swarovski crystals, my own squeezed lampwork beads, and turquoise gemstone beads.

I have a coordinating Traveler's bracelet for this with a handmade fine silver Da Vinci chain, lampwork beads, gemstones, and a handmade fine silver clasp.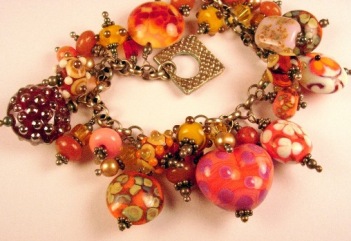 Here is one of my new Traveler's bracelets, this one in warm corals and pinks. It features tons of my own lampwork beads, gemstones, Swarovski crystals, and freshwater pearls. My own handmade fine silver (adjustable) clasp completes the piece.

If it makes it through the weekend show, look for it in my Etsy shop.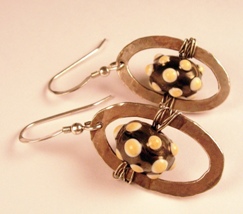 My new Primitive Directions series features fine silver metal work and earthy, almost tribal feeling beads.

I've got variations on this earring style, plus necklaces with the same hammered fine silver metal components and African themed lampwork beads.

Come see them this weekend, or look for them soon in my Etsy shop.
And finally, for you Bead Artists...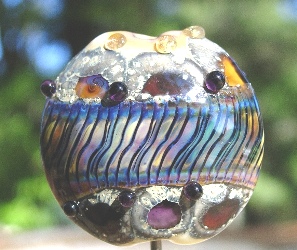 If you've always wanted to know how to make a Big Fancy Bead like this one, check out my brand new PDF tutorial. In this 11 page tutorial with 26 great photos I show:

How to make perfectly puckered large lentils using a press.
How to know when you have enough glass on the press.
How to make a raku twistie.
How to make a silvered ivory stringer loaded with silver.
How to apply a raku twistie to a BFB and make it pop with color.
How to decorate your BFB.

I'll be bringing CD copies of this tutorial to my show at Bargetto this weekend.

If you'd like to see more tutorials, please cast your vote to the right on what kind you'd like to see next.
I'll have all of this and then some at the show this weekend, so come on out! If you can't make it, keep an eye on my Etsy shop for my new work plus some end of the year special events.

Peace,

Patty